Writing

Hotheads, Temperate Spirits and Cold Lands
Exhibition text
Paraíso Bajo


Daniela Silva of Paraíso Bajo interviews artist Nicolás Vizcaíno Sánchez about his most recent installation



Nicolás Vizcaíno Sánchez (Bogotá, 1991) has dedicated the best years of his life to art: either alone in his studio producing work, writing texts to accompany exhibitions and being a freelance curator or joining others in socially committed projects, editing publications, marketing serial graphics, and organizing social events. He has participated in group shows at The Box (Los Angeles), Valenzuela and Klenner, Casa Rat Trap, Espacio KB (Bogotá), and in editorial fairs such as Bergen Art Book Fair (Norway) and Feira Plana (São Paulo) Brazil. He did his first individual project in 2016 in Más Allá, an independent artspace in Bogotá. He has done all this, while trying to find a way to get a premature retirement plan.

Daniela Silva, one of the three co-founders of Paraíso Bajo, interviewed Nicolás Vizcaíno about his process and about the installation Hotheads, temperate spirits, and cold lands.

Daniela Silva: The installation "Hotheads, Temperate Spirits and Cold Lands" comes from an earlier project called "Supernordic Fever". Tell me about this project, where does it come from? What was it? How many pieces were there? I know that at the time you were in a Cooperartes residence in Bogotá, and that you also planned to present the result elsewhere.

Nicolás Vizcaíno: Between September and December 2016 I did an artistic residency at Cooperartes, where I developed the Supernordic Fever project. The name of the project comes to a paradox. The Santa Fé neighborhood, a "hot zone" of Bogotá, paradoxically, is next to a commercial zone of refrigeration systems-a few blocks from Disco Fever Bar is the Supernordic refrigerators store.

The project consisted of two pieces: a curtain made out of hair beads, which recalls an image of a scientific-military thermal map; and a pectoral indigenous piece, made out of tiny beads with the image of the Predator's face (from the Hollywood film that has the same name). This piece was made by an Emberá-Chamí family from Alto Andágueda, forcibly displaced to Bogotá.

For some time now, a community of Emberá Indians, displaced from Risaralda and Chocó, has been settling in the Santa Fé neighborhood. The youngest members of this community, some born in Bogotá, mix Spanish and Emberá when they speak, and they are the ones who are making strange versions of the Okamas and Otapas -traditional necklaces of that community- in which, for example, the U.S. flag, Jesus Christ or Spiderman appear. That's where the idea for the pectoral piece came from.

A curtain of beads hanging over the street represents the entrance to a brothel. It is an object that marks the separation between two places; outside and inside but is still easy to cross. This is how I decided to use this object to talk about the liminal place where the Emberá community is now. I am interested in continuing to explore the idea of an indeterminate zone, an exceptional space with the project Hotheads, Temperate Spirits and Cold Lands.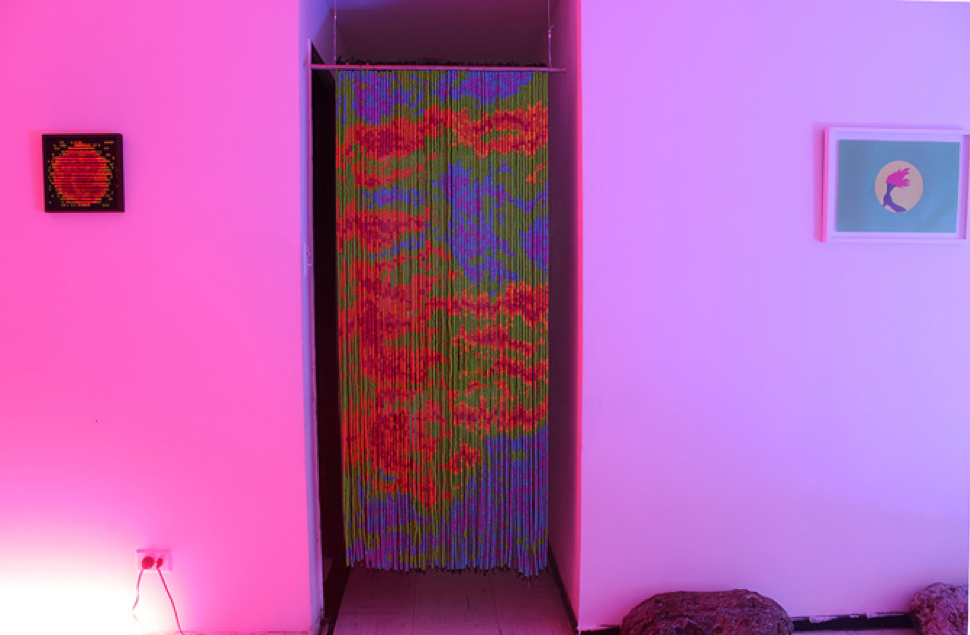 In August you were in Cali at the (escuela incierta), a residency in lugar a dudas (an independent art space). Did this experience help boost or change anything about the installation?

Something that happened was that I detached myself from what I was doing with my work because the theme of the school was leisure and laziness: to do nothing. There were spaces to talk and think about each other's artistic process, which caused me to be more receptive to what was happening around me. I went back to some very cool old ideas, like deregulating and lowering the pace of life. These are themes that I touched on in my thesis from my undergraduate studies and that are again important in my current process.

When I commissioned the necklace to the Emberá family, I thought of opening my work to more worldviews and different ethnic viewpoints. But being surrounded by so much blackness in Cali, I confirmed that I want to speak from and about blackness: it's what interests and excites me the most.

I know that the Supernordic Fever project didn't end exactly as you had planned. However, one of the pieces was exhibited at The Box within the framework of Pacific Standard Time in Los Angeles. How did this happen and how did you feel about the two pieces within that context?

Initially, I wanted to do something mega ambitious. In January of this year, I went on a trip along the Atrato River to the Gulf of Urabá. While I was in the jungle, on the Colombian side of the Darien gap, I was eager to extend what I developed in Supernordic Fever, because I am interested in approaching various representations, perceptions, and images about the Chocó territory. My idea was to make about 12 different pieces, which together would give a complete image of this place, which is so strange and wonderful. I didn't do much in the next few months hoping to get funding from a scholarship, which I, unfortunately, didn't win.

Being in the (escuela incierta) school in lugar a dudas in Cali, I showed Victor Albarracín what I was working on, and he invited me to participate with these pieces in the exhibition Dysfunctional Formulas of Love at The Box Gallery in Los Angeles. I never really understood what it was all about, but I thought it was cool to see the curtain and pectoral piece working in a way I hadn't imagined before. For example, they did a review in art-agenda in which they mentioned my pieces, and they interpreted them in a way that I thought was funny; and that, let's say, is very valuable to me.




Tell me about the transition between Supernordic Fever and Hotheads; or the evolution of the idea.

This is a modest version of what I expected to make at the beginning of the year. I've thought a lot about how the pieces work beyond their individual selves, to turn the whole into an installation. "Hotheads, temperate spirits, and cold lands," is a shortcut to get to my original idea: an approximation to the experience of the region of Chocó. It is worth exploring this place where one of the first colonial foundations in America was set up because it is a way of revisiting the structural problems with which our territory has been shaped, and also the possibility of attending to other world visions that have historically challenged and resisted hegemonic and totalitarian gazes.

"Hotheads, Temperate Spirits and Cold Lands" confronts the always antagonistic relationship between center and periphery -cold earth and hot earth- proposing a dynamic, a visual temperature scale, to temper the gaze. It is not a project with a point of view that pretends to be impartial and interpretative, like that of an ethnographer, but a more dispersed and rare look, like a curious tourist or a drunk.




Tell me about each of the pieces in the installation.

The curtain and the necklace are the central pieces; used to refer mainly to the territory, made with the materials and colors I like the most. In addition, these are the pieces that determine the angle of my approach, a predator in a certain sense, to this alien reality.

The other pieces of the installation are a painting of black hairstyles, three printed digital drawings, three abaci made with beads, an arm made of fabric, a hand-painted bedspread, and some deformed cushions.

The painting of hairstyles has different versions painted, based on photos that I took in Quibdó during the festivities of San Pacho. I wanted it to look like a painted barbershop poster, but it turned out to be something else. In any case, that's where the idea of "hotheads" comes from.

The digital drawings form a triptych in which the flag of Zaire, a former dictatorship in the territory of what is now the Democratic Republic of Congo, goes from having an arm holding a lighted torch to an arm holding an ice cream. Nonsensically, the idea is to cool down the pan-Africanist ideas that inhabited Zaire.

The abaci have beads that form images of brain scans. It's a progression to warm colors.

The fabric arm is chubby and holds the Emberá necklace.

The bedspread is a mixture between the flag of Sardinia, the Carlist flag of the Spanish empire during colonial expeditions, and a poster of a rap band. The Carlist flag was the flag with which they founded Santa María la Antigua del Darién in 1510, the first Spanish population on the American mainland. The flag of Sardinia has some heads that apparently, in Italy, the powerful families used it a lot in coats of arms to manifest the fight against the Moors. In this case, the four heads are different and all have the look of a rapper. I thought they might be members of a band, so the piece is called Negros con actitud, like Compton's band, N.W.A.

The cushions are like comfortable ruins of that city that lasted no more than 12 years being inhabited because it seems that the natives practically annihilated it.



Why think of the installation as a room?

I wanted to come back to inhabitable space, a place to be. A space with some characteristics that make it suitable to be inside it. The idea was never to do something like a theatrical set, but it turned out to be a place with semblances to a room. It contains things that could be inside it, that talk about domesticity, but more importantly I pay homage to my favorite place in the world; the bed.




Where does the title come from?

I thought about the theory of geographical determinism, which helped to structure how power in Colombia could perpetuate being racist; shown for example in Francisco José de Caldas' book, "The Influx of Climate on Organized Beings", in which it is basically understood that people in hot territories are lazy par excellence and that civilization cannot arise there. So the idea is to distort that, also suggesting that there are hotheads that have temperate spirits and live in cold lands. And the silly joke to me was that it looked like a haiku that always has a relationship with the landscape, right?

In Paraíso Bajo, we make collages related to each exhibition. For this, we ask the artists to send us images and/or audiovisual material. Could you talk about the content you sent us? Are there any references, whether from the world of art or from other worlds, that you had in mind when working on this installation?

Computerized thermal graphics are very present, from the most remote memories of the film The Predator as well. From there come some cross-references between the origins of computer graphics, the composition with beads of indigenous groups, and the beads that black people use for their hairstyles. Then, as far as representations of black people are concerned, there are the Ghanaian film posters, hairstyling posters of Togo, Real Deal Comix by Lawrence Hubbard, and the work of Kerry James Marshall.

In terms of installation, I always have Jason Rhoades' work in mind. Which I was finally able to see this year in Los Angeles, and I definitely think is the best exhibition I've ever seen. Finally, I've been observing and thinking a lot about what my mom does for fun; she makes cloth dolls out of dresses and makes bedspreads to give away. I really like the way she spends hours searching for fabrics and defining colors for everything she does; she rarely does the same thing twice.





All photos are from the installation Hotheads, Temperate Spirits and Cold Lands by Nicolás Vizcaíno Sánchez, presented by Paraíso Bajo on December 2, 2017, in Bogotá.

*******


Suave
Exhibition text
SGR Gallery


Everything is contained and profusely spread over the surface. Products and windows softly move in front of your eyes. You see cats and dogs and people falling down. You send a million emojis automatically to a couple of contacts. You delete WhatsApp chains. You create WhatsApp chains. You close private tabs with useless searches. You navigate the web believing that Google is your oracle and that the cloud is real.

The truth is that the cloud doesn't exist. There's a floor to it all, cobalt mining, submarine ground, and fiber optic cables covered in a plastic that kills all those animals that you'll never save because you're logged into YouTube looking for tutorials on how to save them. The myth of the virtual only exists to distract you. It exists to get you to surf without thinking about how the video of a Japanese woman eating fifty raw eggs all in one go reaches that screen in your hand. In any case, it doesn't matter; I know you're going to google-search that video, even if I tell you that all of this system works with layers and that you're only stuck on the surface.

Redirecting your attention to the screens of your devices while the web functions impeccably - extends the distance between you and the people who own your devices, people you will probably never meet. That distance, so calculated between public and provider, allows these smart objects to have a lightness of being.

The internet seems to have no weight, but it does.

Under every soft thing, there is poison.

******




The format of reality shows follows an international structure and is adapted at the national level for different cultures. These reality shows, appearing in the eighties but actually taking off in the mid-nineties, introduced a more complex public sphere without rules, with infinite connections and groups of characters. The roles within the television program multiplied, showing two sides of reality in the same program with the simple division between the front stage and the backstage. Then there was the use of the deep backstage: where the characters reflect on what happened in front and added another narrative branch. As a result, these scenarios created more flexible and hybrid characters, as well as space test out different roles and identities. Reality formats can be adapted for different purposes.

Mariana Jurado's work is similar to that of a reality show, while she plays with the possibilities of existing superficially in various worlds, IRL or URL. The bridges built to enter these worlds are not complex, they are immediate solutions as she uses Photoshop or mash-ups to insert herself into new worlds. The characters are all here; Mariana is the common thread. She is her own tool kit, her own object of study, and her own hyperbolized indulgence.

The scenarios in her work are intuitively guided and created by personal taste and aesthetics. She points at certain clues by using costumes, props, sets, or singing well-known pop songs. These clues are reinterpreted differently by the audience. She doesn't really care about the public's understanding, she doesn't digest her work for anyone, but she does allow her work to end in multiple interpretations and conclusions. If Jurado Rico's work were a Roscharch exam hers would be collages of hybrid characters of pop culture. Fun and quirky situations that all link back to her life.

The exhibition "And why is this b*tch swimming?" shows a body of work that has evolved since 2013. It's a combination of the artist's own identity: exalting, banalizing, and mocking at times.
Mariana Jurado Rico's work is a malleable amalgam of achieving absolute freedom of power in any situation.

******